Game Description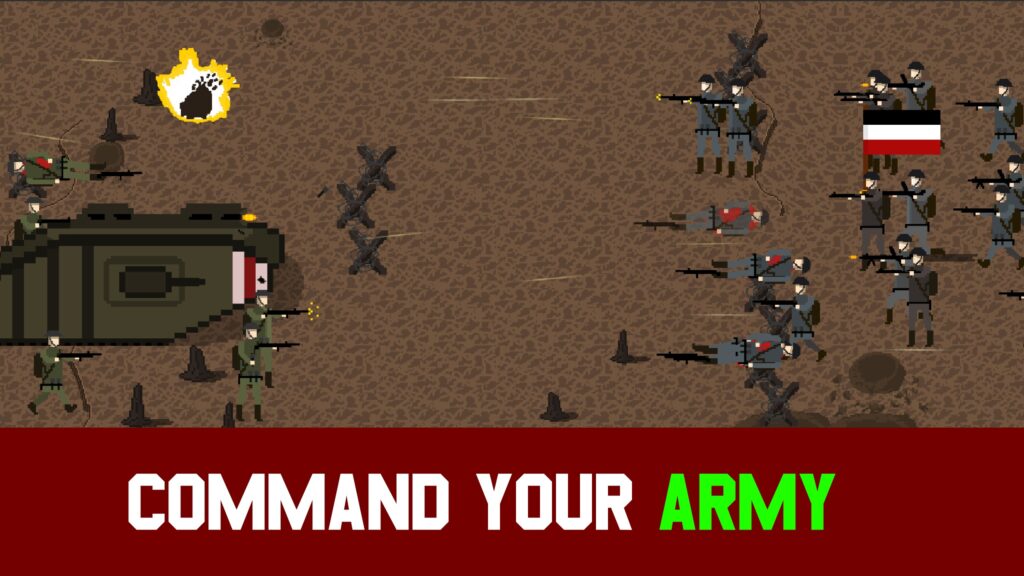 Warfare 1917 Unblocked is a captivating and historically-inspired online strategy game that plunges you into the harrowing battles of World War I. Command your troops through the treacherous trenches, make tactical decisions, and engage in intense warfare. This unblocked version ensures you can enjoy the game without any restrictions, making it a must-play for history buffs and strategy game enthusiasts.
Game Controls
Familiarize yourself with the intuitive controls of Warfare 1917 Unblocked:
Mouse: Navigate menus and interact with units.
Left-Click: Select units and issue commands.
Right-Click: Deselect units or cancel commands.
How to Play Warfare 1917 Unblocked?
Warfare 1917 Unblocked combines strategy and tactical thinking to immerse you in the chaos of World War I. Here's how to get started:
Choose Your Side: Pick either the British Army or the German Empire as your faction. Each side has its unique units and strategies.
Deploy Your Troops: Start with a limited number of units at your disposal. Click on the recruitment menu to bring in infantry or support units. Place them strategically in the trenches.
Plan Your Strategy: Study the battlefield and assess the enemy's position. Decide where to send your troops and whether to focus on offense or defense.
Give Orders: Click on your units to select them, then click on your desired destination or target to issue orders. You can order troops to move, attack, or take cover.
Earn Command Points: As the battle rages on, you'll earn command points. These points allow you to call in reinforcements, including tanks and artillery support.
Complete Objectives: Your mission objectives are displayed on the top left of the screen. Fulfill these objectives to advance through the campaign.
Adapt and Evolve: As you progress, unlock new units and abilities to enhance your strategy and adapt to the changing battlefield conditions.
Victory or Defeat: The game ends when you achieve victory by completing all objectives or when the enemy forces overrun your position. Plan your moves carefully to secure victory.
Tips and Tricks
Warfare 1917 Unblocked requires strategic thinking and adaptability. Here are some valuable tips to help you succeed in the trenches:
Trench Placement: Properly position your units in the trenches. Infantry units provide cover for each other, so consider their placement carefully.
Use Cover: Take advantage of natural cover in the trenches to shield your troops from enemy fire.
Prioritize Objectives: Focus on completing mission objectives to progress through the campaign. Don't get distracted by insignificant skirmishes.
Artillery Support: Utilize artillery strikes to break enemy lines and soften up their defenses before sending in infantry.
Tank Warfare: Tanks are formidable assets. Deploy them strategically, and they can turn the tide of battle in your favor.
Reinforcements: Regularly reinforce your troops with fresh recruits. A well-supplied army is more likely to prevail.
Game Developer
Warfare 1917 Unblocked was developed by ConArtists, a game development studio known for their engaging strategy and defense games.
Game Platforms
Warfare 1917 Unblocked is primarily available as a web-based game, accessible on most computers with an internet connection via web browsers. Additionally, for those seeking the convenience of mobile gameplay, there are dedicated mobile apps available for both iOS and Android platforms. Whether you prefer to command your troops on a desktop or on the go using your iPhone, iPad, or Android smartphone or tablet, Warfare 1917 Unblocked is easily accessible and ready for action.
Conclusion
Warfare 1917 Unblocked offers an immersive and historically-rich gaming experience that allows players to step into the shoes of World War I commanders. With its accessible controls, strategic depth, and historical context, this game provides an engaging and challenging experience.
As you lead your troops through the trenches and make critical decisions on the battlefield, you'll find yourself absorbed in the intensity of the era's warfare. The ability to play this unblocked version ensures that you can enjoy the game freely, without any restrictions or barriers.