Game Description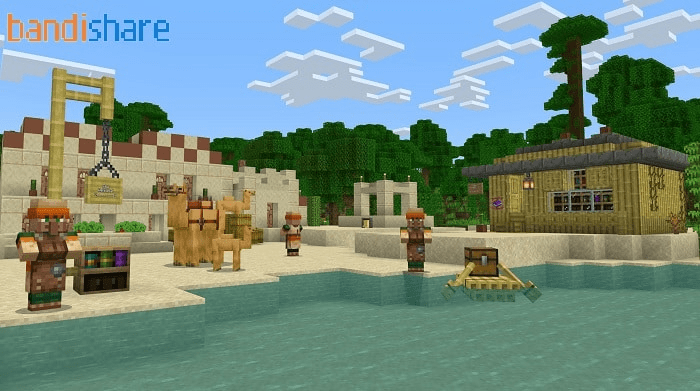 Minecraft is an open-world sandbox game that offers a unique blend of creativity, adventure, and survival. Set in a pixelated, procedurally generated world, players can mine resources, craft tools, build structures, and interact with a vibrant and dynamic environment. The game's limitless possibilities have made it a beloved title for players of all ages.
Game Controls
Mastering the game controls is essential for navigating the blocky world effectively. Here are the basic controls for the popular mobile version:
Movement: Use the virtual joystick on the screen to move forward, backward, left, or right.
Look and Aim: Swipe across the screen to change your view and aim.
Mining and Interaction: Tap and hold on blocks or objects to mine, interact, or place blocks.
Inventory: Access your inventory and crafting menu to manage items and craft tools.
Jump: Tap the jump button to ascend or swim upward.
How to Play Minecraft?
Survive and Thrive: Start in a randomly generated world with nothing but your wits. Gather resources like wood, stone, and coal to craft tools and shelter.
Build and Create: Let your imagination run wild by constructing structures, landscapes, and entire worlds. Use the crafting table to create more advanced items.
Explore and Adventure: Venture into caves, dungeons, and mines to discover rare materials and face off against creatures like zombies and creepers.
Multiplayer: Collaborate with friends or join online servers to explore and build together. Minecraft's multiplayer mode offers endless collaborative opportunities.
Redstone Engineering: Delve into the world of redstone to create complex machines, circuits, and contraptions.
Tips and Tricks
Resource Management: Efficiently manage your resources. Use wooden tools initially and save valuable materials for advanced crafting.
Light Up Your World: Keep your surroundings well-lit to prevent hostile mobs from spawning near your structures.
Experiment with Redstone: Redstone can be used to create incredible devices. Experiment and watch tutorials to learn its potential.
Stay Well-Prepared: Always carry essential supplies like food, weapons, and tools when embarking on adventures.
Community and Mods: Explore the vast Minecraft community and consider using mods to enhance your gaming experience.
Game Developer
Minecraft was developed by Mojang Studios, a Swedish video game developer known for its innovative and creative approach to game design. Microsoft acquired Mojang in 2014, further expanding the game's reach.
Supported Platforms
Minecraft is available on a wide range of platforms, ensuring accessibility for gamers worldwide. Some of the major platforms include:
iOS: You can play Minecraft on your iPhone or iPad, offering a mobile experience with touch controls.
Android: Minecraft is available for Android smartphones and tablets, allowing for on-the-go creativity.
In addition to iOS and Android, Minecraft is also accessible on PC, Mac, Xbox, PlayStation, Nintendo Switch, and more.
How to Play Unblocked
Minecraft doesn't typically face the same unblocking challenges as some other games. However, if you encounter any restrictions, follow these steps:
Check Local Restrictions: Ensure that the restrictions you're facing aren't due to local network settings, such as parental controls or workplace restrictions.
Official Sources: Always download Minecraft from official sources, such as the Apple App Store for iOS or Google Play for Android, to avoid issues related to unlicensed versions.
VPN Consideration: If you're playing Minecraft on a network with strict restrictions, consider using a VPN to bypass these restrictions. Be sure to use a reputable VPN service.
Conclusion
Minecraft is not just a game; it's a digital canvas for creativity, exploration, and adventure. With its vast and blocky world, endless possibilities for construction, and rich multiplayer experiences, it has captivated players of all ages for over a decade. Whether you're on iOS, Android, or another platform, Minecraft's charm lies in its ability to let you unleash your imagination and shape your own unique adventures in a world made of blocks. So, dive in, break some blocks, build your dream world, and embark on endless adventures – Minecraft awaits your creativity!