Introduction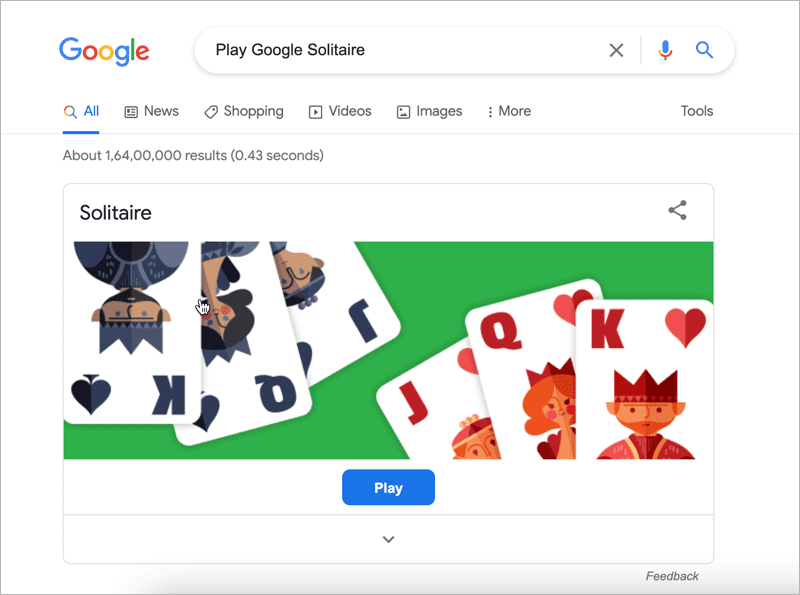 Google Solitaire is a free online version of the classic card game solitaire. It is available to play on any web browser, and it does not require any downloads or registrations. The game is simple to learn but challenging to master, and it is a great way to pass the time or relieve stress.
Description
Google Solitaire is a single-player card game that is played with a standard 52-card deck. The goal of the game is to move all of the cards from the tableau to the foundation piles. The tableau is the stack of cards in the middle of the screen. The foundation piles are the four piles at the top of the screen. Each foundation pile must be built in ascending order, starting with the Ace and ending with the King.
is simple to learn but challenging to master, and it is a lot of fun to play. If you are looking for a good online solitaire game, I highly recommend Google Solitaire.
Game Controls
Playing Google Solitaire is a breeze, thanks to its straightforward controls:
Mouse: Use your mouse to click and drag cards to move them around the tableau (the main play area).
How to Play Google Solitaire?
To get started with Google Solitaire, follow these steps:
Objective: The primary goal of Klondike Solitaire is to build four foundation piles in ascending order, from Ace to King, for each of the four suits (hearts, diamonds, clubs, and spades).
Setup: The game begins with a shuffled standard deck of 52 cards. The cards are dealt into seven tableau columns, with the first column containing one card, the second two cards (one face down and one face up), the third three cards (two face down and one face up), and so on.
Basic Moves: You can move cards within the tableau in descending order and alternating colors. For instance, you can place a 5 of hearts on a 6 of spades or vice versa.
Foundation Piles: As you uncover Aces, place them in the foundation piles. Subsequently, build on these piles by adding cards of the same suit in ascending order.
Building Columns: Cards in the tableau can be moved between columns, provided that the card being moved is one rank higher and of the opposite color than the card it's being placed on.
Stock and Waste: The remaining deck is called the stock, and you can draw cards from it one at a time to the waste pile. Cards in the waste pile can be used to build foundation piles or tableau columns.
Winning: You win Klondike Solitaire when you successfully build all four foundation piles, one for each suit, from Ace to King.
Tips and Tricks
Mastering Google Solitaire requires a blend of strategy and patience. Here are some helpful tips to improve your game:
Start with Aces and Deuces: Whenever possible, prioritize moving Aces and Deuces to the foundation piles. These cards are the building blocks of your success.
Expose Face-Down Cards: Whenever you have the option, try to uncover face-down cards in the tableau. These hidden cards might reveal opportunities for moving other cards and making progress.
Empty Columns Are Key: Try to create empty columns in the tableau as soon as possible. These empty spaces act as placeholders for moving cards around and can be very useful.
Draw from the Stock Wisely: Don't rush to draw cards from the stock. Instead, focus on moving cards within the tableau and waste pile first. Only draw from the stock when necessary.
Plan Your Moves: Think ahead and consider the consequences of each move. Try to visualize how your current move will affect future moves and choose the option that gives you the most flexibility.
Game Developer
Google Solitaire is a web-based card game developed by Google. It's a part of the suite of games available on the Google search page and can be accessed by searching for "solitaire" in the Google search bar.
Game Platforms
Google Solitaire is primarily available as a web-based game on the Google search page. You can play it using a web browser on your desktop computer or mobile device, as long as you have an internet connection. Additionally, there are dedicated mobile apps for both iOS and Android platforms, allowing you to enjoy the game on your smartphones and tablets. Whether you're an iOS user with an iPhone or iPad or an Android enthusiast with a compatible device, Google Solitaire is just a few taps away for on-the-go gaming enjoyment.
How to Play Unblocked
Playing Google Solitaire unblocked is a straightforward process. Since it's a web-based game, you can access it through your preferred web browser on any computer or device with internet access. There are no restrictions or blocks associated with playing Google Solitaire, making it accessible to anyone, anywhere. Simply go to the Google search page, type "solitaire," and click on the game to start playing.