Game Description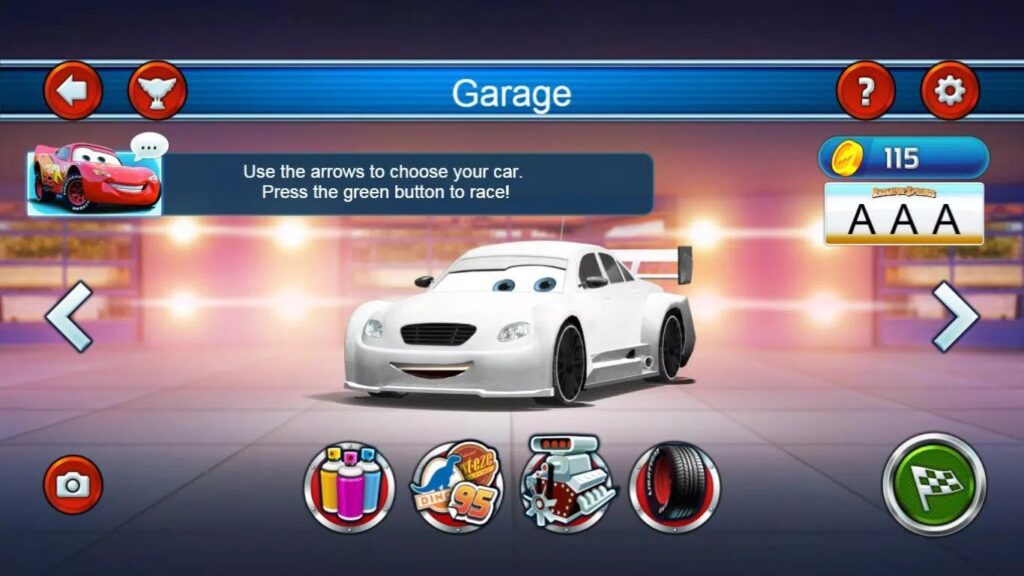 Get ready to rev your engines and hit the racetrack with Lightning McQueen and his pals in "Cars Lightning Speed." This exciting racing game lets you step into the world of Disney Pixar's Cars, where you'll compete against your favorite characters in high-speed challenges. Whether you're a fan of the movies or just a racing enthusiast, this game will keep you entertained for hours.
Game Controls
Before you can zoom off to victory, it's essential to familiarize yourself with the game's controls. Here's a quick rundown:
Arrow Keys: Use the arrow keys on your keyboard to steer your car.
Spacebar: Press the spacebar to activate your car's turbo boost for that extra burst of speed.
Z Key: Deploy your car's special ability by pressing the Z key.
How to Play Cars Lightning Speed?
"Cars Lightning Speed" is a straightforward yet thrilling racing game. Follow these steps to get started:
Choose Your Character: Begin by selecting your favorite character from the Cars franchise, such as Lightning McQueen, Mater, or Cruz Ramirez.
Select a Track: Pick one of the available tracks to begin your race. Each track offers unique challenges and scenery inspired by the Cars movies.
Race to Win: Use your arrow keys to steer your car and avoid obstacles while collecting power-ups and boosters along the way. Don't forget to use your turbo boost (spacebar) strategically to gain an edge over your opponents.
Special Abilities: Each character has a special ability (activated with the Z key) that can be a game-changer. Experiment with these abilities to discover their unique advantages.
Complete Challenges: As you progress through the game, you'll encounter various challenges and mini-games that test your racing skills. Completing these challenges can earn you rewards and unlock new content.
Upgrade Your Ride: Collect coins during races to upgrade your car's performance and appearance. These upgrades can give you a competitive edge in future races.
Compete and Repeat: Keep racing, honing your skills, and competing against other characters to become the ultimate champion of "Cars Lightning Speed."
Tips and Tricks
To help you become a top-notch racer in "Cars Lightning Speed," here are some tips and tricks:
Master the Tracks: Spend time getting to know each track's layout and shortcuts to gain an advantage over your opponents.
Timing Is Everything: Use your turbo boost strategically, especially on straightaways and when overtaking opponents.
Upgrade Wisely: Prioritize upgrading your car's speed and handling to make it easier to navigate tricky sections of the tracks.
Learn Special Abilities: Experiment with different characters and their special abilities to find the one that suits your racing style best.
Collect Power-ups: Keep an eye out for power-ups scattered throughout the tracks. These can give you temporary advantages, such as invincibility or speed boosts.
Practice, Practice, Practice: Like any racing game, practice makes perfect. The more you play, the better you'll become at mastering the controls and winning races.
Game Developer
"Cars Lightning Speed" was developed by Disney Interactive Studios, known for creating exciting and family-friendly games based on popular Disney and Pixar franchises.
Game Platforms
This thrilling racing game is available on various platforms, including:
Web Browsers: You can play "Cars Lightning Speed" directly in your web browser, making it easily accessible to anyone with an internet connection.
Mobile Devices: The game is also available for download on mobile devices, allowing you to enjoy the action on the go.
How to Play Unblocked
If you're looking to play "Cars Lightning Speed" unblocked, you can often find it on gaming websites or platforms that specialize in offering unblocked games. Just search for "Cars Lightning Speed unblocked" in your preferred search engine, and you should find several websites where you can play the game without restrictions.
So, what are you waiting for? Jump into your favorite Cars character's car, hit the racetrack, and unleash your inner speedster in "Cars Lightning Speed"!