Game Description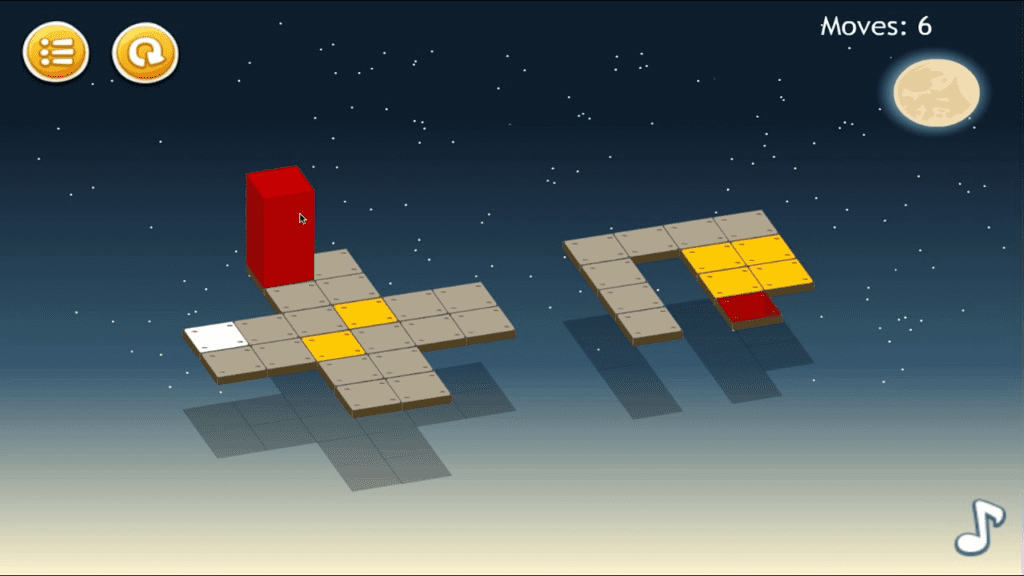 Bloxorz is a classic block puzzle game that combines simple mechanics with increasingly complex puzzles. Players control a rectangular block that must be maneuvered through a series of levels, navigating obstacles and pitfalls while striving to reach the designated goal. The game's elegant design and challenging puzzles have made it a favorite among puzzle enthusiasts.
Game Controls
Mastering the game controls is vital for successfully navigating the block through the puzzles. Here are the basic controls:
Arrow Keys: Use the arrow keys to move the block in four directions: up, down, left, and right.
How to Play Bloxorz?
Objective: The goal in Bloxorz is to get the rectangular block to fall into a square hole on the level, thereby completing the puzzle and advancing to the next level.
Puzzle Elements: Each level introduces various puzzle elements, including switches, bridges, and fragile tiles. Interact with these elements strategically to progress.
Balance the Block: Be mindful of the block's balance. It can fall off the edge or stand upright on special tiles, adding a layer of complexity to the puzzles.
Plan Your Moves: Plan your moves carefully, considering the layout of the level and the function of each puzzle element. Sometimes, a step backward is necessary to move forward.
Progressive Challenge: As you advance through the game, the puzzles become increasingly intricate and require more precise thinking.
Tips and Tricks
Study the Level: Take a moment to study each level's layout and identify potential pitfalls and obstacles.
Use Bridges Sparingly: Bridges have limited uses, so deploy them strategically to create safe paths.
Reset When Stuck: If you find yourself stuck or the block falls off the edge, don't hesitate to reset the level and try a different approach.
Game Developer
Bloxorz is developed by Damien Clarke, a game developer known for creating addictive and challenging puzzle games that test players' problem-solving skills.
Game Platforms
Bloxorz is primarily available on web-based platforms, making it accessible to a wide range of players. You can enjoy the game on browsers without the need for additional downloads or installations.
Bloxorz is primarily available on web-based platforms, allowing players to enjoy the game directly through web browsers without the need for additional downloads or installations. Additionally, there are versions of Bloxorz available for both iOS and Android platforms, ensuring that players can engage in this brain-teasing block puzzle adventure on their mobile devices, whether they use iPhones, iPads, or Android smartphones and tablets. This versatility makes Bloxorz accessible to a wide range of players, regardless of their preferred gaming platform.
How to Play Unblocked
Playing the unblocked version of Bloxorz is quite straightforward, as the game is primarily web-based:
Access Unblocked Websites: Search for unblocked gaming websites on your browser. Many websites offer Bloxorz as an unblocked game.
Start Playing: Once you've found an unblocked source, simply click to start playing Bloxorz without any restrictions.
Conclusion
Bloxorz is a shining example of a classic block puzzle game that stands the test of time. With its elegant design, challenging puzzles, and a progressive increase in difficulty, it provides hours of brain-teasing entertainment. Developed by Damien Clarke, this title is easily accessible through web-based platforms, making it a convenient choice for puzzle enthusiasts of all ages.
So, if you're looking for a game that will exercise your spatial reasoning, logic, and problem-solving skills, Bloxorz is the perfect choice. It's a testament to the enduring appeal of classic puzzle games and offers a satisfying challenge for players seeking both fun and mental stimulation. Dive into the world of Bloxorz and see how far your puzzle-solving abilities can take you!