Game Description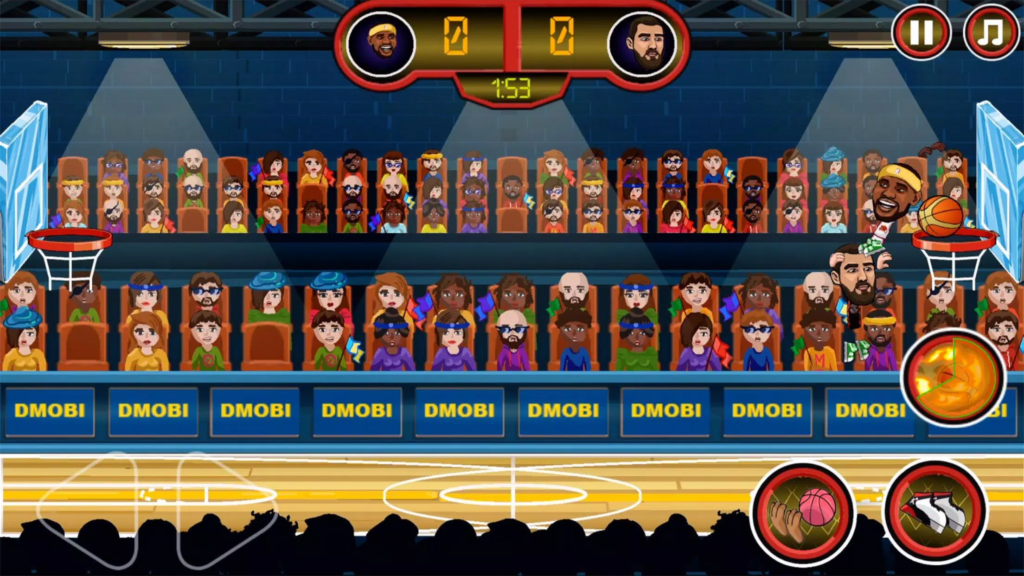 Basketball Legends lets you lace up your virtual sneakers and compete in thrilling basketball matches featuring legendary players. Whether you're a fan of Michael Jordan, Kobe Bryant, or other basketball greats, this game offers a chance to showcase your skills and take on opponents in fast-paced, arcade-style matches. With its engaging gameplay and captivating graphics, Basketball Legends is a must-play for basketball enthusiasts.
Basketball Legends is an electrifying sports game that allows players to step onto the virtual court with some of the most iconic basketball legends of all time. In this comprehensive article, we'll delve into the game's description, controls, gameplay, tips and tricks, game developer, supported platforms, and how to play the unblocked version. We'll conclude with an overview of what makes Basketball Legends a slam dunk of a gaming experience.
Game Controls
Mastering the game controls is crucial for achieving victory on the virtual court. Here are the basic controls:
Arrow Keys: Use the arrow keys for movement, allowing you to run, jump, and control your player's actions.
[X] Key: Press the [X] key for actions like shooting, stealing, and blocking.
[Z] Key: Utilize the [Z] key for passing and switching players.
How to Play Basketball Legends?
Objective: The primary objective in Basketball Legends is to outscore your opponent within the match's time limit. Work with your team to secure baskets and defend your hoop.
Choose Your Legend: Select your favorite basketball legend, each with their unique skills and abilities.
Arcade-Style Matches: Engage in fast-paced, one-on-one or two-on-two matches with a focus on high-scoring plays and dazzling moves.
Special Moves: Unleash special moves and super shots unique to each legend to gain an advantage.
Dynamic Arenas: Compete in a variety of dynamic and visually appealing basketball courts.
Tips and Tricks
Learn Legend Abilities: Familiarize yourself with the strengths and special moves of your chosen legend to maximize your performance.
Teamwork Matters: In two-player mode, effective teamwork can lead to devastating combos and a better chance of winning.
Defensive Skills: Don't neglect defense. Learn to time your blocks and steals effectively to thwart your opponent's advances.
Master the Super Shot: Each legend has a super shot that can be a game-changer. Master its execution to turn the tide in your favor.
Game Developer
Basketball Legends is developed by MadPuffers, a game developer known for creating engaging and entertaining sports-based games.
Game Platforms
Basketball Legends is primarily available on web-based platforms, allowing players to enjoy the game through internet browsers on various operating systems. Additionally, there are versions of Basketball Legends available for both iOS and Android platforms, ensuring that gamers can hoop it up with their favorite legends on their mobile devices, such as iPhones, iPads, and Android smartphones and tablets. This versatility ensures that Basketball Legends can be enjoyed across a wide range of platforms, making it accessible to a broad audience of basketball enthusiasts.
How to Play Unblocked
Accessing the unblocked version of Basketball Legends is typically straightforward:
Visit Unblocked Game Sites: Search for unblocked game websites using your preferred search engine.
Access Basketball Legends: Find a trusted unblocked game website that offers the game. Click on the game to start playing.
Enjoy Uninterrupted Gameplay: You can now enjoy the game without any restrictions.
Conclusion
The game brings the thrill of the NBA to your fingertips, allowing you to compete as legendary basketball icons in intense and action-packed matches. Developed by MadPuffers, this game offers not only engaging gameplay but also the opportunity to test your basketball skills and strategies.
Available on various platforms, including web browsers, Basketball Legends provides accessibility to a broad audience of gamers. So, whether you're a die-hard basketball fan or simply looking for an entertaining sports gaming experience, Basketball Legends is a slam dunk choice. Step onto the virtual court, make legendary plays, and prove your basketball prowess in this exciting and captivating game. It's a must-play for basketball lovers and gamers alike!